Curious about the sales of Mobile phones? The table below shows the performance of the top mobile phone manufacturing companies.
As can be expected, Nokia is still the behemoth in sales, with a 34% market share globally. Apple, with it's much vaunted iPhone, is only 7th place. Goes to show you, that volume and cheapness (or variety) is still the winner over exclusivity and prestige.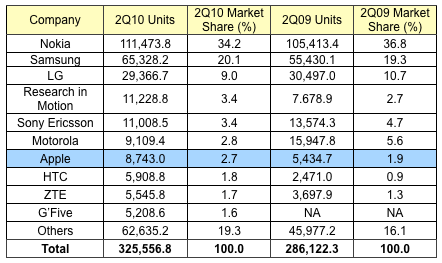 Now looking at Smartphones exclusively, this table shows the performance of the different Operating systems that run our smartphones.
The prehistoric Symbian OS is still number 1 due to it being found in Nokia's smartphones. RIM's OS found in blackberries are 2nd place, while Android has already overtaken the Apple iOS in 3rd place...and it looks like it will be taking down RIM in the very near future.