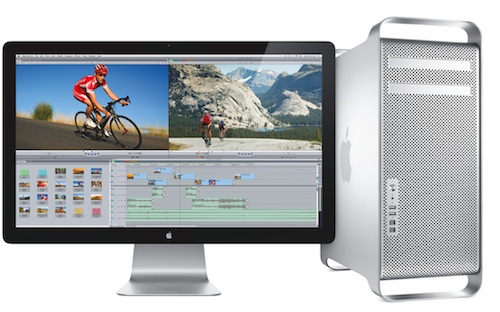 Looks like a busy day at Apple, after launching the new iMac they have now revealed the latest entry in their Mac Pro line and LED Cinema display.
The Mac Pro is the highest end computer available from Apple, boasting the best specs among it's entire line-up. As quoted by a Cupertino representative:
"The new Mac Pro is the most powerful and configurable Mac we've ever made," said Philip Schiller, Apple's senior vice president of Worldwide Product Marketing. "With up to 12 cores, the new Mac Pro outperforms our previous top-of-the-line system by up to 50 percent, and with over a billion possible configurations, our customers can create exactly the system they want."
It will feature a huge boost in processor power and graphics,similar to the upgrade experienced by the iMac. Also included are additional display ports and optional Solid state drives. The base configurations will be as follows:
- $2499: 1x 2.8 GHz Quad-Core / 3GB RAM / 1 TB HD
- $3499: 2x 2.4 GHz Quad-Core / 6 GB RAM / 1 TB HD
- A 12 core model will also be available for $ 4,999. Yep...12 cores! Pretty much the most power you can get from a consumer marketed computer.
The Base graphics will be provided by ATI Radeon HD 5770, which is of course upgradeable.
As for the LED Cinema display, Apple will be launching a 27" model with an upgrade in resolution to 2560x1440 at a 16:9 aspect ratio. That is a lot of screen real estate. It will also feature 3 USB ports and an ambient light sensor to adjust the screen brightness automatically depending on the room lighting. The Cinema display is the perfect companion to the Mac Pro,and will retail for $999.
The new Mac Pro will be available by end of August, and the Cinema Display will be shipping in September.