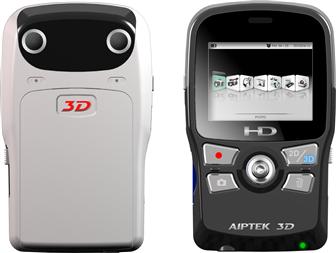 Hey, Why not?
With the advent of 3D in theaters, and the smashing success of Avatar, media moguls have been pushing the format more extensively.
In addition, the giants of Electronics Land, namely Sony, Samsung, LG, Toshiba, Panasonic, etc. have also been developing 3D viewing technology on their latest and upcoming devices. (more info
on that here)
With all these 3D TV's, glasses, and monitors coming out, where will we get all the 3D media to watch on them? Are we just going to rely on Hollywood for that? Of course not!
Aiptek has announced their newest device: the i2. A portable video recorder that can record in 720p high definition..and in 3D! The video can then be downloaded into your PC, and reproduced for watching on the 3D TV's that we don't even have yet.
It's due for release in July for a retail price of about $250. Now everyone can make their dream of creating an Avatar movie come true, with 3D cameras becoming available mainstream (well, that plus a few hundred million dollars budget).